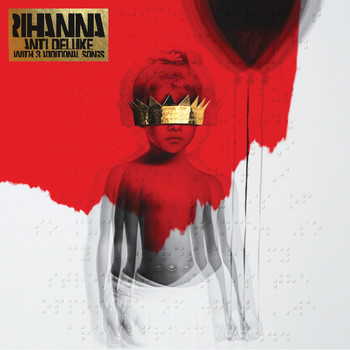 Preview ANTI (Deluxe)
Record Label:
Roc Nation / Rihanna
7digital

What we said:

As one of the best-selling artists of all-time, Rihanna's more than earned the right to call the shots in her own career. That's precisely what she proceeds to do – arguably, for the first time – on this much-hyped follow-up to 2012's Unapologetic. Unlike previous LPs, Anti finds Ri-Ri eschewing powerhouse pop songwriting teams and big-name EDM producers, and swapping chart bangers for more laid-back cuts. The Drake-starring, Patois-flecked single 'Work' is the most energetic thing here, closely followed by the loose hip hop swagger of SZA-duet 'Consideration'. Add to that a surprise Tame Impala cover ('Same 'Ol Mistakes'), and a Prince-worthy slow jam ('Love On The Brain'), and Anti winds up feeling more like a mixtape than it does a studio album-proper. Nevertheless, it's also Rihanna's most soulful and consistent record to date.
| Track Number | Track Title | Track Length | Track Price/Buy Link |
| --- | --- | --- | --- |
| 1 | Consideration | 2:41 | |
| 2 | James Joint | 1:12 | |
| 3 | Kiss It Better | 4:13 | |
| 4 | Work | 3:00 | |
| 5 | Desperado | 3:06 | |
| 6 | Woo | 3:55 | |
| 7 | Needed Me | 3:11 | |
| 8 | Yeah, I Said It | 2:13 | |
| 9 | Same Ol' Mistakes | 6:37 | |
| 10 | Never Ending | 3:22 | |
| 11 | Love On The Brain | 3:44 | |
| 12 | Higher | 2:00 | |
| 13 | Close To You | 3:43 | |
| 14 | Goodnight Gotham | 1:28 | |
| 15 | Pose | 2:24 | |
| 16 | Sex With Me | 3:26 | |
Duration:

50:15
Genres:
℗ 2016 Westbury Road Entertainment. Distributed by Roc Nation Records
© 2016 Westbury Road Entertainment. Distributed by Roc Nation Records